March14: Hezbollah arms are the main problem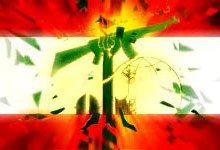 March 14 General Secretariat issued a statement, following its weekly meeting Wednesday, saying Hezbollah's arms are the primary source of contention in designing a national defense strategy.
According to the statement, the March 8 alliance intends to obstruct UN Security Council Resolution 1701, the Special Tribunal for Lebanon (STL) and previous agreements to disarm Palestinian factions outside refugee camps and demarcate borders between Lebanon and Syria.
Hezbollah and the Free Patriotic Movement's recent threats to withdraw from national dialogue if it addresses the Resistance's arms are unfortunate, said the secretariat.
It also reiterated March 14's commitment to the STL to ensure justice and called on security forces to uncover the perpetrators behind Tuesday's incident in Zahle, where two bombs were found outside Phalange bloc MP Elie Marouni's residence. Now Lebanon