Lebanon president heads to Brazil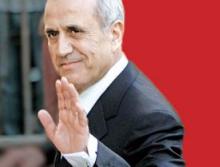 President Michel Suleiman and an accompanying delegation headed to Brazil Wednesday for a six-day official visit, said a statement issued by the president's office.
Suleiman was accompanied by his wife, Wafa, and Cabinet Ministers Tareq Mitri, Mona Ofeish, Ali Abdulah, Salim al-Sayegh and Mohammed Rahhal.
Suleiman will meet with his Brazilian counterpart, Luiz Inacio Lula da Silva, as well as other high-ranking officials, added the statement.
During his visit he is expected to oversee the signing of four agreements on bilateral cooperation in the areas of environment, tourism, sports and economy.
The Lebanese President will be visiting Brasilia, Sao Paulo and Rio de Janeiro during his stay.
In the Brazilian capital, Suleiman will hold talks with Lula on bilateral relations
On the eve of his trip to Brazil, Suleiman said the current political, security and economic stability in Lebanon "is a good opportunity for investment."
Suleiman made his statements before a delegation of the Egyptian-Lebanese Businessmen Friendship Association.