Lawyer:Saudis not to behead Lebanese psychic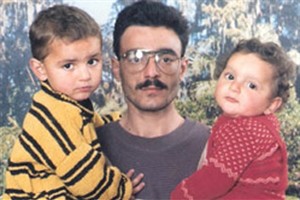 By BASSEM MROUE
A Lebanese TV psychic, who was condemned to death for witchcraft by a Saudi court while visiting the country, will not be beheaded, his lawyer said Wednesday.
May al-Khansa told The Associated Press that the Saudi ambassador in Beirut informed the Lebanese justice minister that the execution of Ali Sibat would not take place.
"He confirmed to me that there will be no execution," al-Khansa said about her conversation with Ibrahim Najjar, Lebanon's justice minister. She refused to go into details but said "matters are going in the right direction."
"We have faith in Saudi Arabia's judicial system," she added, noting that Sibat's actions are not considered a crime in Lebanon.
Sibat is one of scores of people reported arrested every year in the kingdom on charges of practicing sorcery, witchcraft, black magic and fortunetelling, which are considered to be polytheism by the country's ultraconservative judiciary.
The father of five was arrested by the Saudi religious police while making a pilgrimage to the holy city of Mecca in May 2008 and sentenced to death last November on charges of practicing witchcraft.
Sibat, 49, made predictions on a satellite TV channel from his home in Beirut, where psychics, fortunetellers and astrologers operate freely. Many have regular TV and radio shows and some cafes even hire them to attract more customers. On Dec. 31, they jostle for air time to give their predictions for the new year.
According to his lawyer, he was the most popular psychic on his channel, especially among callers from the conservative Gulf.
After Mecca, Sibat went to Medina to pray at the Mosque of the Prophet. At his hotel, members of the religious police who enforce the kingdom's strict Islamic lifestyle spotted him and grabbed him.
Earlier this week, a Saudi judicial official said the country's highest appellate court had upheld the death sentence and asked the nation's Supreme Judicial Council to set a date to carry out the execution.
Saudi newspapers have reported that the Court of Cassation had first rejected the case and asked the lower tribunal to offer Sibat a chance to repent. It was not clear if he was given that chance.
There has been sporadic media attention to his case. The report of his imminent execution earlier this month brought a flare of calls in the Lebanese press for his release.
Some Lebanese has also rallied near the Saudi embassy in Beirut to protest the execution sentence.
New York-based Human Rights Watch said last year Sibat's death sentence should be overturned and called on the Saudi government to halt its "increasing use of charges of 'witchcraft,' crimes that are vaguely defined and arbitrarily used." AP