4 of the 10 Puma helicopters donated to Lebanon by UAE arrived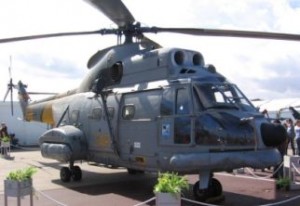 As per directives from UAE president Sheikh Khalifa bin Zayed Al Nahyan, UAE donated today four Puma helicopters to the Lebanese Army.
This is the first batch of ten aircraft ordered by Sheikh Khalifa to support the capabilities of the Lebanese armed forces.
The handover ceremony started with the arrival of the aircraft, which were flown by Emirati and Lebanese pilots accompanied by the technical staff from both countries.
Staff Major General Fares Mohammed Al-Mazroui, Head of the Logistics Command of the UAE Armed Forces delivered a speech, in which he said that UAE is granting four Puma military aircraft to the Lebanese Army .The remaining aircraft promised by UAE will be delivered during the current year, he added.
He said that the generous initiative comes within the framework of the existing cooperation between the UAE and the Republic of Lebanon and is aimed to strengthen the capability of the Lebanese army.
He pointed out that this type of aircraft has many advantages where they are able to work around the clock and can fly over mountains, thanks to the four-dimensional autopilot and navigation systems supported by GPS.
Al- Mazroui explained major operations this type of aircraft can carry out such as search and rescue and evacuation of patients, as well as transportation of troops and military equipment.
The Deputy Chief of Staff of the Lebanese army, in a speech made on behalf of the Lebanon's army chief, Brigadier Jean Kahwaji, thanked UAE and its leader for this noble gesture.
He also expressed happiness over the spirit of love and solidarity shown by UAE He also praised the UAE's efforts to support and assist Lebanon in all fields.
This was followed by the signing ceremony of delivery of the aircraft.