Ogassapian in Syria to discuss amending Lebanese-Syrian agreements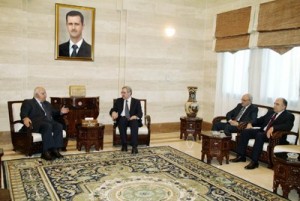 Lebanese State Minister Jean Ogassapian headed to Syria accompanied by a technical delegation to meet with Syrian officials.
The visit aims at paving the way for the upcoming visit of Prime Minister Saad Hariri to Damascus and to discuss amending bilateral agreements
The delegation already met with with Syrian Prime Minister Mohammed Naji Otari in Damascus Monday to discuss bilateral ties.
"There are many agreements between the two countries that fall in Lebanon's favor," Ogassapian, who heads the Lebanese delegation, said after the meeting, adding that he hopes "the discussions with the Syrians may benefit both countries because there is a need to develop these agreements."
A meeting also gathered Ogassapian and the head of the State Planning Commission in Syria, Amer Hosni Lutfi.
The meeting was also attended by the head of the Higher Lebanese-Syrian Council, Nasri Khoury, as well as representatives of concerned ministers from both countries.
Lutfi said that the meeting was a preparatory one aimed at discussing "all areas of collaboration between the two countries" in order to bolster cooperation ahead of Hariri's upcoming meeting with Otari.
Lutfi added: "Not too long ago, the Syrian side suggested introducing amendments to some agreements in order to develop them."
Khoury on the other hand has been opposed to amending the Lebanese Syrian agreements