Dream resort in Lebanon at enemy's gate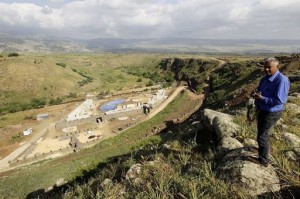 On a lush green hillside that dips into a river, dozens of labourers are busy building a dream vacation getaway deep in Lebanon's south.
The construction site in the tiny village of Al-Wazzani may look like any other except that in this case it sits right at the enemy's gate — literally a stone's throw from Israel.
"Many told us we were crazy to build so close to the border with Israel," said Khalil Abdallah, the man behind the three-million-dollar project located three metres (10 feet) from the UN-drawn border that separates Lebanon from Israel, two countries still technically at war.
"Many also think it's a great idea," added the 58-year-old entrepreneur who recently returned to settle in his native Lebanon after living and working in Africa for 40 years.
But the so-called Wazzani Fort, a rest and recreation resort in a region largely controlled by the Shiite militant group Hezbollah, has already raised hackles from across the border.
Israeli troops earlier this month crossed onto the construction site and dismantled the hydraulic arm of a bulldozer, according to the Lebanese army.
The incident prompted Lebanon to lodge a complaint before the UN Security Council.
Abdallah and his sister and business partner Zahra, however, remain undaunted.
"This is our land and we have every right to make use of every last inch of it," said Zahra, 45. "We want to live in peace and we want to realise this old dream."
She expressed confidence the resort would be a success and attract lots of clients, both Lebanese and foreign, despite its strategic location.
"You'll see, we are going to be fully booked when we open and we already have five weddings booked for this summer," said Zahra.
As she spoke, an Israeli armoured vehicle slowly cruised by across the border, on a hilltop overlooking the resort.
A Lebanese army tank was meanwhile stationed on the construction site while two vehicles from the UN peacekeeping force in southern Lebanon — UNIFIL — patrolled the area.
"The first time I saw Jewish soldiers up close I panicked," Mohammed Scheybar, a Syrian construction worker, told AFP. "They sat there and watched us for five hours and then left.
"Now I am used to their presence and it doesn't bother me anymore."
Israel occupied much of southern Lebanon for 22 years between 1978 and 2000 preventing people like the Abdallahs from accessing their land.
The region was also devastated in 2006 following a war between Hezbollah and the Jewish state.
And there are persistent fears another conflict may be brewing amid a constant war of words between the militant group and Israel.
Given the turbulent history of southern Lebanon, some say Abdallah is pinning his dreams on a sleeping volcano.
"The Jews are not okay with this project and local residents fear a backlash," said Ghazala, 45, a mother of seven who lives in the nearby village of Wata Al-Khiam.
The UNIFIL force for its part said it is keeping a close watch on the project which appears to be too close for comfort to the Israeli border.
"The Blue Line is always very sensitive and therefore utmost caution is necessary in any activities along this area," UNIFIL spokesman Neeraj Singh told AFP, referring to the UN-set border.
"We are in contact with the parties to ensure that there is no misunderstanding leading to any escalation of the situation," he added. "We have asked the parties to refrain from any action that could be viewed as provocative."
Construction of Wazzani Fort began in July last year, and the resort is due to be partially inaugurated in June of this year with nine guest rooms, a restaurant and swimming pool.
Once completed in 2012, it will also include several bungalows, villas, a gym, a health clinic, tennis courts, horseback riding and a supermarket.
Hezbollah MP Ali Fayyad said it was heartening to see people like the Abdallah's invest in such a "daring" project.
"This is a top quality tourism initiative in a region that had been abandoned for years," he said.
"It is also a form of resistance and reflects the will of the local population to develop the region."
Abdallah said his aim was only to fulfill a lifelong wish and offer guests a unique experience.
"This is a dream come true for me and my dad," he said. "All I want is to end my days here."