Gemayel slams Aoun for preferring Hezbollah over the Army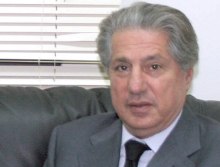 Lebanese former president and Phalange Party leader Amin Gemayel criticized Free Patriotic Movement leader MP Michel Aoun's recent statements during the yesterday's national dialogue session in which he threatened to withdraw from the talks if the issue of Hezbollah's arms was brought up for discussion.
"It is surprising how the former Lebanese army commander (Aoun) would overlook the role of the army and give a priority to illegitimate arms," he told al-Arabiyah television.
He added: "It is unacceptable that a head of a parliamentary bloc who has his own ministers in cabinet would place such a condition at the national dialogue."
He said that the issue of the Palestinian arms outside the refugee camps in Lebanon was discussed during Thursday's session and that all sides were in agreement that the issue should be resolved.
"All sides insisted on tackling it as soon as possible and that a proper mechanism should be reached so that the army may assume its role in those areas," he continued.
He also revealed that Prime Minister Saad Hariri had brought up the issue of the Palestinian arms during his first meeting with Syrian President Bashar al-Assad during in Damascus who offered to help.
According to a military observer that refused to be named for security reason all the militant Palestinians in Lebanon are armed , funded and trained by the Syrians