Geagea: Lebanon army could be as strong as Hezbollah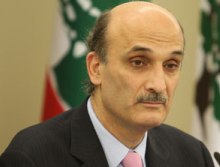 In an interview with Saudi Al-Watan newspaper to be published on Sunday, Lebanese Forces leader Samir Geagea said that the Lebanese army could be as strong as Hezbollah within six months if given the opportunity.
Geagea said the LF's vision for the defense strategy involves maintaining special army units similar to Hezbollah's. The country's army already has special units with at least 4,000 members, he added.
Hezbollah is not serious in its participation in the national dialogue because it did not present its vision on the defense strategy, the LF leader also said.
The Lebanese consensus over the national army is lacking over Hezbollah's armament, he added.
Geagea refused to comment on the issue of the Special Tribunal for Lebanon (STL) reportedly leaking information to the media on Hezbollah's involvement in the 2005 assassination of former Prime Minister Rafik Hariri, adding that he trusts the decisions of the STL.
Hezbollah Secretary General Sayyed Hassan Nasrallah's position on the matter is rational and in line with his party's participation in the cabinet and parliament, he added. In his interview with Al-Manar television last week, Nasrallah stated that he would cooperate with the STL.
Geagea touched on his possible visit to Damascus, saying that the LF is still waiting for the positive outcome of the Lebanese officials' "openness to Syria." He reiterated his call for establishing state-to-state relations between the two countries.
He assessed the performance of the national-unity cabinet, saying it is disappointing on the developmental, economic and social level. However, he added that it is stabilizes Lebanon.
Geagea reiterated that the LF is being targeted because it is an essential component of the March 14 alliance, adding that there have been attempts for the past five months to isolate the LF and pressure the president and cabinet to boycott the party.
This comes after several figures from the March 8 alliance accused the LF of being involved with the incident in the Bekaa village of Ouyon Orgosh where two men were arrested for opening fire and injuring a person after drugs and weapons were found in the village last week.
The Middle East peace process is on track despite the challenges it is facing, Geagea said, adding that Palestinian refugees will not be naturalized in Lebanon.
He added that Israel is attempting to escape international pressure to resolve the Arab-Israeli conflict.
The US is aware of the need to establish a free and independent Palestinian state, which, in itself, is a strategic and historic accomplishment, Geagea also said.
He added that he discussed the issue of Palestine and Jerusalem during the commemoration of the 1994 banning of the LF in March because the Christians were always part of the Arab community.
Geagea also met with Minister of State Michel Pharaon and March 14 General Secretariat Coordinator Fares Soueid on Saturday and discussed the May municipal elections and the recent security incidents in Ouyoun Orgosh, Hermel, Kfar Zabad and Sfeir, according to a statement issued by the LF media office. Now Lebanon