Turkish PM: Israel main threat to Mid-East peace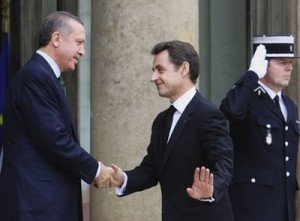 Israel was the main threat to peace in the Middle East, the visiting Turkish Prime Minister Recep Tayyip Erdogan said here on Wednesday before meeting with French President Nicolas Sarkozy.
"Israel represents now the main threat to regional peace," Erdogan said before his around an-hour meeting with Sarkozy at the Elysee Palace, local media reported.
"If a country makes use of disproportionate force in Palestine and use phosphorous bombs in Gaza … We demand that how can it do that," the Turkish Prime Minister was quoted by local media.
Two days ago, when asked about his attitude over Iran nuclear issue in an interview with French media, Erdogan said Iran was not the country in the Middle East region that first violates the non- proliferation and owns nuclear weapons.
The relations between Turkey and Israel, the two traditionally friendly nations, have cooled down after Israel launched the massive attack on the Gaza Strip in late 2008.
The Israeli Deputy Foreign Minister Daniel Ayalon even refused to shake hands with the Turkish ambassador to Israel in a meeting last January.
Erdogan arrived in Paris Tuesday for an official visit. He has met with Sarkozy and is expected to meet with French Prime Minister Francois Fillon and chairmen of parliament houses later Wednesday.
Israel, Turkey trade barbs
In Jerusalem, Prime Minister Benjamin Netanyahu retorted he was "sorry that Mr. Erdogan chooses to attack Israel again and again." Such repeated criticism doesn't serve the interests of stability and advancing relations in the region, the Israeli premier said.
Erdogan dismissed Netanyahu's remarks, saying they highlighted Israel's growing isolation.
Israeli authorities "never question themselves," Erdogan told reporters. "All they do is question what other political leaders say," he said through a translator.
"Not a day goes by without them being right… they're always right: that's how they view themselves, but that's not what the rest of the world thinks," Erdogan said.