Iran: Tehran will strike Israel if attacked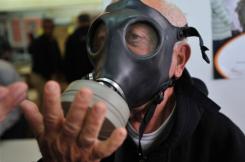 A top cleric with Iran's elite Revolutionary Guard has reiterated warnings that Tehran would strike archenemy Israel if the Jewish state and its Western allies attacked Iran.
A report by the semiofficial Fars news agency on Tuesday quoted cleric Mojtaba Zolnour as saying the "enemies know if they fire a missile toward Iran, the dust from explosions by Iranian missiles will rise in Tel Aviv" even as "their missile is still in the air."
The cleric issued a similar warning in October, when he said Iran would "blow up the heart of Israel" if the United States or the Jewish state attacked it first.
His comments are not unusual.
Iran's President Mahmoud Ahmadinejad has since 2005 often called for Israel's destruction and predicted the demise for the Jewish state.
Biochemical war protection kits
Israel Tuesday began distributing millions of protection kits against biochemical warfare, Deputy Defence Minister Matan Vilnai announced, stressing the campaign was not linked to any imminent threat.
"We have equipped ourselves with millions of protection kits against biological or chemical warfare, and a massive distribution programme for the population started today," Vilnai told army radio.
"Every family in Israel can receive these kits at home and be instructed on how to use them by Israeli postal workers, at an average cost of 25 shekels (five dollars), or pick them up free of charge at post office counters."
The distribution came as an aide to Iran's supreme leader Ayatollah Ali Khamenei, quoted by the Islamic republic's Fars news agency on Tuesday, warned that his country would hit Tel Aviv with missiles if it came under attack.
"If the enemy takes its chance and fires a missile towards Iran, the dust from an Iranian missile strike will rise in the heart of Tel Aviv even before the dust from the enemy attack settles" in Iran, said cleric Mojtaba Zolnoor.
Iran has regularly boasted of its missile capability, saying it has an arsenal which can strike Israel, which along with Washington has not ruled out a military strike to halt Tehran's controversial nuclear programme.
But Vilnai emphasized the distribution of the protection kits was "not linked to any precise current threat."
The Israeli government decided on January 5 to distribute eight million new gas masks, one for each citizen, by 2013 and already distributed gas masks to 70,000 residents of Or Yehuda, near Tel Aviv in February.
Israel has long feared chemical or biological weapons may be used against it in a future conflict involving the Jewish state's arch-foes, Iran or Syria.
The country came under sustained attack during its 2006 war with Lebanon's Hezbollah militia, when more than 4,000 Katyusha rockets were launched at north Israel in 34 days, sending hundreds of thousands of residents fleeing south.
Gas masks were distributed to Israel's population during the 1991 Gulf War over Kuwait when now executed dictator Saddam Hussein's Iraq fired 39 Scud missiles armed with conventional warheads at Israel. AP, France24