Geagea: There is a campaign against LF from behind the border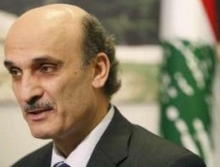 Following the weekly meeting of the Lebanese Forces parliamentary bloc in Maarab, L F leader Samir Geagea admitted that "most Ouyoun Orghosh residents are LF supporters, including those detained over this case."
He was responding to the media reports of March 8.
He said " the allegations in the media reports are not based on any concrete evidence, " adding that he is waiting for "the Judiciary to say its final word on the issue."
Answering a question on the reportedly seized weapons – having Hebrew writings — and the large amount of drugs , Geagea stressed that "there is campaign being launched against the LF from behind the border."
"Those who are waging this campaign are agents who haven't been satiated by their treason throughout the past 10 years," Geagea added.
"To some, political work is based on false accusations and fabricating stories."
On Monday, the LF denied it had any link with the attack in Ouyoun Orghosh, vowing legal action against March 8 media outlets for allegedly reporting false information.
"The accusations broadcasted by March 8 media are a forestallment of the Lebanese judiciary's work, particularly that two of the suspects are still held at the (army) intelligence directorate," the LF said in a statement.
March 8 media outlets said Sunday that LF gunmen had opened fire on a family having a picnic in Ouyoun Orghosh and then clashed with the army.
Four people, who reportedly admitted to being LF members, were arrested, according to the reports.
The LF statement accused the media organizations of taking orders from "their masters behind the border" to alter facts and distort the image of the party "which spearheads the independent and sovereign" movement in the country.
"The LF is making preparations to take judicial procedures against March 8 media that invented such lies," it added.
MP Michel Aoun added his criticism today when he commented on the incident by saying : The drug trade is increasing in Lebanon and should be controlled