Aoun: Drug trade is up, should be controlled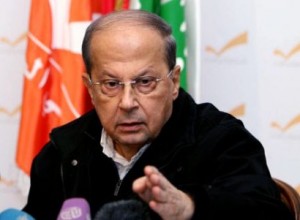 Change and Reform bloc leader MP Michel Aoun briefed the media following his bloc's weekly meeting on Tuesday
Drugs
He called for giving high importance to the issue of drug use in the country.
"Drug trade in Lebanon has increased, especially within the youth, and should be controlled, he said."
His comments comes after Lebanese authorities found drugs and weapons on Saturday in the northern town of Ouyoun Orgosh, which is believed to be a Lebanese Forces dominated area. Aoun's comment follows accusations by several March 8 figures against the LF .
Aoun called on all relevant organizations to meet at his Rabieh residence on Saturday, April 17, to address drug-related issues and establish a political plan to tackle the matter.
Municipal election
aoun commented on the upcoming municipal elections which are scheduled to begin on May 2 in Mount Lebanon region , saying his bloc prepared a developmental project for towns as part of his electoral campaign. "We call on everyone to participate," he said.
He denied recent rumors about a possible alliance with MP Michel al-Murr in the Metn during the municipal elections.
He also urged women to run for the elections and added they should focus on the lack of equal rights between men and women in the country.
If reforms do not take place, the FPM will participate in the municipal elections according to the current law, said Aoun, reiterating his desire for the parliament to approve the draft municipal electoral law.
Aoun touched on the cabinet's administrative appointments, voicing hope competent candidates from all sects would be appointed. "Not taking into account a person's political affiliation when hiring state employees would be a significant progress," he added.
2010 Budget
Aoun called for issuing the 2010 state budget without an increase in the Value Added Tax (VAT).