Iraq PM appeals poll results, Sadr plans referendum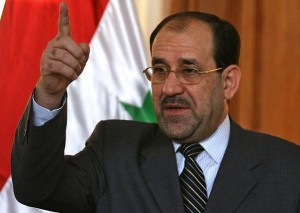 Iraq's prime minister said on Wednesday that his party had formally appealed the results from the country's tight parliamentary elections, a move that could further delay the formation of a new government.
Prime Minister Nuri al-Maliki, whose State of Law coalition finished a close second in the March 7 poll, said the appeal to a three-judge electoral panel was needed to clear up doubts about the vote.
Maliki's coalition is locked in merger talks with the faction of anti-U.S. cleric Moqtada al-Sadr. A deal could make the combined group the largest bloc in parliament, sidelining former Prime Minister Iyad Allawi, whose cross-sectarian Iraqiya group was the top vote-getter.
"I want to point out that there was confusion in the election results," Maliki told a news conference.
"We will wait to see what the legal and judicial institutions say about this issue. Everyone should be bound by the decision that will come from them," he said.
Maliki has complained repeatedly about what he says were irregularities with the vote. United Nations and other international observers say the elections were largely credible and fair.
Allawi's Iraqiya finished first with 91 seats, ahead of State of Law with 89. Forming a government requires 163 seats.
Iraqis had hoped the vote would stabilize the country after years of war, but the close result could lead to weeks or even months of difficult and potentially divisive talks to form a government.
Sectarian violence exploded after the last parliamentary vote in 2005 as politicians took five months to agree a government.
SADRIST REFERENDUM
In a move to help decide who Sadr's group should back as next prime minister, the Iran-based cleric's faction said it would carry out a referendum with ordinary Iraqis on Friday and Saturday.
The Sadrists, who are part of the Iraqi National Alliance (INA), oppose Maliki, who launched a crackdown on Sadr's Mehdi Army militia in 2008. State of Law officials said they had shown flexibility but he was still their only candidate.
The voting would take place at Sadrist offices, at mosques or with mobile party teams, Sadr spokesman Salah al-Ubaidi told a news conference.
The ballots would have five names for the prime minister post — Maliki and Mohammed Jaffar al-Sadr from State of Law, INA figures Adel Abdul-Mahdi and former Prime Minister Ibrahim al-Jaafari, and Allawi. A space would be left for write-in candidates.
Allawi may be weakened by a de-Baathification panel's decision to bar six Iraqiya candidates who won seats. The committee ruled the six had links to the now-outlawed Baath Party of dictator Saddam Hussein.
Iraq's election commission has received 62 complaints about the voting, the commission chairman, Faraj al-Haidari, told Reuters.