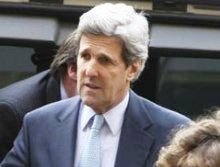 Massachusetts Senator John Kerry, who is juggling climate change, aid to Pakistan and Congressional oversight of the war in Afghanistan — plunges this week into yet another major international conundrum: Middle East peace.
Kerry departs today to the region "to investigate the political situation in Syria and Lebanon and the prospects for progress in the Arab-Israeli Peace Process," according to a schedule provided by his office.
He arrives in Beirut on Wednesday to meet Prime Minister Saad Hariri, President Michel Suleiman and Nabih Berri, Speaker of Parliament. Then he will move on to Syria — a country the Bush administration treated like a rogue regime, but which the Obama administration has sought to engage.
On Thursday, Kerry will meet with Syrian President Bashar al-Assad and Foreign Minister Walid al-Mouallem.
Syria is a key to the Middle East conflict because Damascus hosts the leaders of Hamas and supports Hezbollah, an anti-Israeli Shi'ite group. Also, Syria and Israel have been embroiled in a dispute over Shebaa Farms, a tiny, well-watered slice of land that Syria and Lebanon say is Lebanese territory which is occupied by Israel.
Syrian President Bashar al-Assad raised hopes of a peace deal with Israel last month, when he told the Swedish daily Svenska Dagbladet that a deal could be signed "within six months." But as he courts Israel and the United States – welcoming Senator Kerry – he is also making plans to strengthen ties with Turkey and Iran to form an Islamic bloc that can counter Israeli and US influence. Boston
This error message is only visible to WordPress admins
Error: No connected account.
Please go to the Instagram Feed settings page to connect an account.