Countdown to Jumblatt's visit to Syria: April 4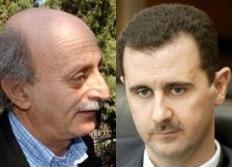 Ad-Diyar newspaper reported Sunday that Progressive Socialist Party MP
Walid Jumblatl will visit Damascus April 4 for a meeting with Syrian President Bashar al-Assad.
Asked about the timing Jumblatt's expected visit to Syria during an interview with Hezbollah's al Manar TV , Assad said Damascus would receive Jumblatt after the Arab League summit in Libya.
Ad-Diyar said Jumblatt will travel to Damascus alone. Previous reports indicated that Jumblatt will travel with his son Taymour.
Jumblatt whose father , Kamal Jumblatt was assassinated by the Syrian regime is under heavy criticism from within the Druze community and the PSP for being so anxious to visit Syria.