Karami defends Wahab's attacks against the president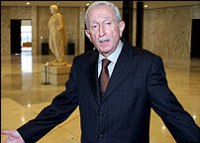 Lebanon's Former Prime Minister Omar Karami , another ally of Syria defended on Tuesday the verbal attacks made against President Michel Suleiman by former minister Wiam Wahab.
"President Suleiman's silence is a strange thing because silence means acceptance," Karami told reporters after meeting Wahab.
Former minister Wiam Wahab a staunch ally of Syria attacked President Michel Suleiman last Wednesday and and called on him to resign for allegedly failing to govern the country.
Following talks with Free Patriotic Movement leader Michel Aoun in Rabiyeh, Wahab said the president should resign "because after two years of rule we feel like we are in the last days of the presidency."
Karami criticized Lebanese Forces leader Samir Geagea.
Geagea "appointed himself Suleiman's lawyer when one month ago he was attacking the President, saying he is no longer a consensus president," Karami said.