A mesaage of support from Assad to Suleiman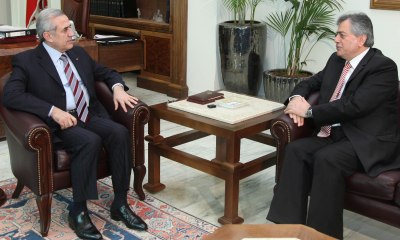 Syria's ambassador to Lebanon Ali Abdul Karim Ali conveyed a "message of support" from Syrian President Bashar Assad to his Lebanese counterpart Michel Suleiman, during a meeting at the Baabda palace in Baabda, according to a presidential statement .
Suleiman discussed with Ali in Baabda palace "issues of bilateral concern and ongoing cooperation between the two countries at all levels and in all fields," the presidential statement said.
The diplomat conveyed to Suleiman "Syrian support for the presidency and constitutional institutions," the statement said, adding that the Assad regime also announced support for Lebanon against Israeli threats.
The "message of support" came at a time of verbal attacks against the president, particularly from Syria's ally former minister Wiam Wahab, who has called on Suleiman to resign.