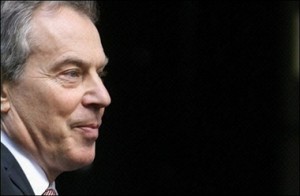 So much for a crisis in the Israel-U.K. relationship.
Former British Prime Minister Tony Blair, speaking on a day his government moved to expel an Israeli diplomat over an alleged forged-passports case, wowed a gathering of Washington's most powerful pro-Israel lobby by reaffirming his support for the Jewish state.
"I am always described as a friend of Israel. It is true," Blair told the annual policy conference of the American Israel Public Affairs Committee. "I am proud of it and tell you why."
Blair didn't mention, nor was asked, about a diplomatic tussle currently playing out in London that has the British government preparing to expel an Israeli diplomat. The U.K. alleges Israel's intelligence service, Mossad, used forged British passports to help carry out the assassination of a senior Palestinian militant in the United Arab Emirates this January. (Israel has neither confirmed nor denied its involvement.)
What could have been a delicate moment for Blair, however, turned into a love-fest between himself and the Jewish-American community. He reaffirmed the right of Israel to defend itself and said he'd double up his own efforts to strengthen the Jewish state's security by building up the Palestinian economy and its security forces.
"Israel will not and can not agree to a Palestinian state unless it is sure the state will be securely and properly governed," Blair said to thunderous applause. "I wouldn't take risks with my country's security; I don't ask Israel to take risks with theirs."
Blair currently serves as the special envoy for the Middle East "Quartet" – which includes the United Nations, European Union, U.S. and Russia – that is seeking to forge an Israeli-Palestinian peace agreement. Blair specifically works on building up the institutions of the Palestinian Authority.
Blair wasn't the only Brit to rouse the Aipac crowd in recent days.
The U.K.'s ambassador to Washington, Sir Nigel Sheinwald, spoke about the threat of Iran's nuclear program – an issue at the top of Israel's security agenda these days. Richard Kemp, a former British commander in Afghanistan, extolled the Israeli military's efforts to guard against civilian casualties in its wars against the militant groups Hamas in the Gaza strip and Hezbollah in Lebanon.
A United Nations commission last year released a report that charged the Israel Defense Forces of committing war crimes against Palestinian civilians during a 2008-2009 military operation, known as "Cast Lead." WSJ