Israeli PM: No concession on Jewish settlements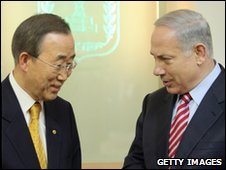 Israeli PM Benjamin Netanyahu has ruled out any concession on the building of settlements in occupied East Jerusalem, despite international pressure.
Mr Netanyahu said he had written to US Secretary of State Hillary Clinton to remove any doubt about the issue.
He made the remarks hours before he left for Washington to address the influential pro-Israeli group, Aipac.
He has been invited to meet President Barack Obama on Tuesday, indicating a possible thaw in relations.
Tensions between the two allies has been running high over Israel's announcement to build 1,600 new homes in East Jerusalem, occupied by Israel since 1967, despite US efforts to re-launch stalled peace talks.
The invitation to the White House was delivered by President Obama's special Middle East envoy, George Mitchell, who met Mr Netanyahu in Jerusalem on Sunday.
On a day of intense diplomatic activity in the region, Mr Netanyahu also met UN Secretary-General Ban Ki-moon, who is on a rare two-day visit to the region.
Netanyahu defiant
"As far as we are concerned, building in Jerusalem is like building in Tel Aviv," Mr Netanyahu told his cabinet.
But he said Israel was willing to widen the scope of planned indirect talks with the Palestinians that Mr Mitchell is to mediate.
The diplomatic package Mr Netanyahu is offering has not been made public, but officials say one element is agreement to discuss all the outstanding issues, including the future of Jerusalem, as well as borders, Jewish settlements and Palestinian refugees.
Mr Netanyahu comments on settlements were quickly denounced by Palestinian President Mahmoud Abbas as unhelpful to attempts to restart peace talks, the AFP news agency reported.
Mr Abbas also condemned the recent killing of four Palestinians in the West Bank by Israeli forces.
Speaking in Gaza on Sunday, Mr Ban called on Israel to end its blockade on Gaza, saying it causes "unacceptable suffering" and "undercuts moderates and encourages extremists".
Israel imposed the blockade in 2006 and tightened it when the militant movement Hamas overran the territory the following year.
Mr Ban said families in Gaza were living under "unacceptable, unsustainable conditions" and that it was "distressing" to see damage to housing caused by Israel's offensive 14 months ago, with no reconstruction possible under the blockade.
Also on Sunday, the Israel army said soldiers shot dead two Palestinians who tried to stab a soldier at a checkpoint in the West Bank.
On Saturday, a Palestinian teenager was shot dead during clashes near Nablus. A second person shot on Saturday died of his injuries on Sunday, West Bank medical officials said. BBC