Sfeir defends the president and presidency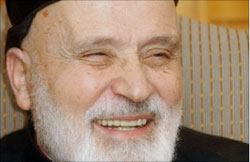 Maronite Patriarch Nasrallah Boutros Sfeir issued a statement on Sunday which stated that "maintaining the presidency and President Michel Suleiman is essential to preserving Lebanon's independence and strengthening the state."
Sfeir's comment came in response to Wiam Wahab's attack against the president .
Former minister Wahab a staunch ally of Syria attacked last Wednesday President Michel Suleiman and called on him to resign for allegedly failing to govern the country.
Following talks with Free Patriotic Movement leader Michel Aoun in Rabiyeh, Wahab said the president should resign "because after two years of rule we feel like we are in the last days of the presidency."
Lebanese Forces bloc MP George Adwan met with Sfeir earlier in the day, following which the MP said attacks against Suleiman target stability in Lebanon and aim to obstruct the country from having a strong president that expresses the will of the people.