Special Tribunal for Lebanon appoints new chief investigator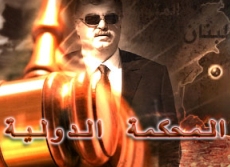 The Office of the Prosecutor of the Special Tribunal for Lebanon announced on Friday the appointment of Michael Taylor, a British national, as its chief of investigation.
A statement released by the prosecutor's office said that Taylor has extensive experience in criminal investigations, adding that he brings "a wealth of expertise in counter-terrorism investigations."
The statement quoted Taylor as saying that "I am honored that I was selected for this very important position, particularly at a time when our investigative efforts are running full-steam and significant and promising progress has been registered."
"I am fully committed to investing everything I can offer to ensure that we succeed in our endeavor of uncovering the truth and helping ensure that justice is done," Taylor was also quoted as added.
Prosecutor Daniel Bellemare welcomed the appointment of Taylor, stressing that his professionalism and expertise are very well established and recognized in the policing and counter-terrorism investigation communities.
"Not only is Taylor the right person for the job, but his appointment ensures a seamless transition in the leadership of the investigation team and, more importantly, the continuity in the investigation process he himself helped design and carry out," Bellemare added.
Taylor will replace Naguib Kaldas who announced last January to leave his post.
The UN special tribunal was established on March 1, 2009 to try suspects that planned, facilitated and executed the assassination of former Lebanese Prime Minister Rafik Hariri, who was killed along with 22 others in a suicide bombing in Beirut on Feb. 14, 2005. Xinhua