Abbas accuses Iran of blocking Palestinian reconciliation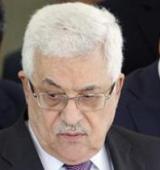 Palestinian President Mahmud Abbas lashed out at Iran on Friday, blaming Tehran for being behind the latest failure to reconcile his secular Fatah movement with its Islamist rival Hamas.
"Iran doesn't want Hamas to sign the Cairo reconciliation document," Abbas said during a meeting in the Tunisian capital.
Fatah and Hamas struggled for months to reach a unity deal under Egyptian mediation, but the efforts collapsed late last year when Hamas refused to agree to a proposal that was signed by Fatah.
Abbas said that while Hamas' leaders had initially indicated their approval of the document, they later began putting forth excuses to refuse to sign.
The Fatah leader said his goal was to "pull our people out from Iranian tutelage".
Hamas routed Fatah from the Gaza Strip in 2007 after deadly fighting, a year after winning Palestinian legislative elections.
New legislative elections were due to have been held early this year, but they have since been postponed indefinitely as Hamas refuses to allow any vote in Gaza without a unity agreement with Abbas's Fatah movement. AFP