Clinton sharply rebukes Israel over new settlements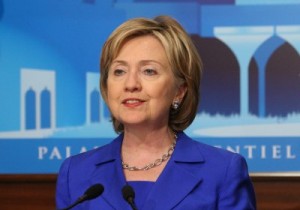 US Secretary of State Hillary Clinton has sharply rebuked Israel over its recent decision to build new settlements in East Jerusalem.
She told Israeli PM Benjamin Netanyahu by telephone that the move was "deeply negative" for US-Israeli relations.
Correspondents say the sharp language underlines Washington's growing irritation with Israel.
Israel's announcement overshadowed a visit by US Vice-President Joe Biden aimed at restarting peace talks.
Since then the Palestinians have indicated they won't return to the negotiating table unless the Israeli decision is revoked.
Apology
US State Department spokesman PJ Crowley said Mrs Clinton called "to make clear that the United States considered the announcement to be a deeply negative signal about Israel's approach to the bilateral relationship and contrary to the spirit of the vice-president's trip".
"The secretary said she could not understand how this happened, particularly in light of the United States 's strong commitment to Israel's security," he added.
"She made clear that the Israeli government needed to demonstrate not just through words but through specific actions that they are committed to this relationship and to the peace process."
Mr Netanyahu earlier apologized for the timing of the settlement announcement, which was made as Mr Biden was holding a day of talks in Jerusalem.
He said he had summoned Interior Minister Eli Yishai to reprimand him.
Israeli and Palestinian leaders had agreed to hold indirect, "proximity talks" in a bid to restart the peace process, which has been stalled for more than a year.
But after the announcement, the Palestinian Authority said talks would be "very difficult" if the plans for the homes were not rescinded.
Close to 500,000 Jews live in more than 100 settlements built since Israel's 1967 occupation of the West Bank and East Jerusalem. They are illegal under international law, although Israel disputes this.
The latest announcement by the Jerusalem municipality approves 1,600 new housing units in the East Jerusalem settlement of Ramat Shlomo. BBC