Syria's envoy slams UN chief over 1701 report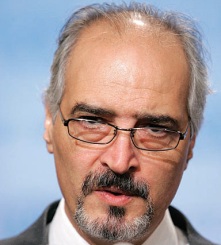 Syria's ambassador to UN has again protested against the inclusion of Damascus in U.N. chief Ban Ki-moon's reports on the implementation of Security Council resolution 1701 without taking into consideration the Syrian point of view.
"It has become unacceptable to continue to mention Syria in those reports," Syrian Ambassador to the UN Bashar Ja'afari wrote in identical letters to Ban and the council president, Gabon.
Ban accused Syria of smuggling arms to its Hezbollah ally in Lebanon, delaying demarcation of borders with Lebanon and of fostering Palestinian militant organizations along the Lebanese Syrian borders.
In a letter Jaafari said the U.N. chief should instead focus on the daily violations of Lebanese airspace by Israeli fighter jets.
Jaafari also sent letters to Ban and members of the Security Council in which he reiterated that demarcation of the border between Lebanon and Syria is a bilateral issue.
Jaafari also denied the presence of armed Palestinian bases on the Lebanese-Syrian border saying the bases are only present on Lebanese territories.
Ja'afari assured Ban that relations with Syria and Lebanon, following Lebanese Prime Minister Saad Hariri's visit to Syria last December, will grow stronger in the coming months.
He said that Hariri's visit "marked a historic shift in Syrian-Lebanese relations. Discussions were held on all aspects of relations between the fraternal countries and means of enhancing (them) in all fields. We are certain to see sustained efforts in that regard in the coming weeks and months, particularly by the (two) countries' Governments."
The Syrian letters came on the eve of a Security Council session to discuss Ban's latest report on the implementation of resolution 1701. U.N. Special Coordinator for Lebanon Michael Williams will brief the Council on the report on Friday.