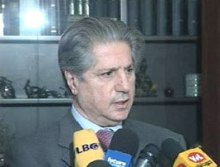 Following its weekly meeting on Monday, the Phalange Party issued a statement that the party decided to take part in the national dialogue—scheduled for Tuesday "despite knowing in advance the obstacles facing the third round of dialogue."
"Phalange Party is determined to give dialogue sessions all support in order to enhance the position of the presidency and to stress its principle of endorsing dialogue instead of weapons, hoping the dialogue committee would reach one vision for the future of security, stability and independence in Lebanon," the statement .
The politburo voiced hope that the participants would agree on a unified vision for Lebanon's security, stability and independence.
The politburo called on all parties for honest and practical response to President Michel Suleiman's initiative in dealing with the raised topics "topped by the fate of Hezbollah's arms."
"All the raised issues, particularly Hezbollah's arsenal, should be tackled through a state-building approach, rather than considering them an inescapable reality," the statement added.
The party added that determining Lebanon's role in the Middle East would facilitate an agreement on the national defense strategy, and not vice-versa.
The Phalange also commended the Zahle bloc for supporting the national dialogue despite its objection to President Suleiman's selection of Professor Fayez al-Hajj Chahine to represent the city. Suleiman met with Zahle bloc MPs last Friday , asked them to provide him with a list of their demands and promised voice their opinions during the dialogue talks .
The party also called on Speaker Nabih Berri to accelerate the parliament's adoption of the draft municipal electoral law—approved Thursday by the cabinet—so that the June municipal elections can be held on time.
The politburo welcomed the visits of Suleiman and PM Saad Hariri to Saudi Arabia and Kuwait and hailed "the brotherly support offered by the officials of these two countries for the Lebanese State and the course of national consensus."