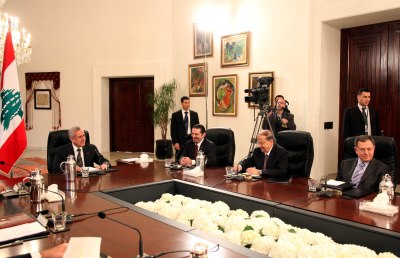 Lebanon's rival political groups have resumed national reconciliation talks and the defense strategy was the main topic on the agenda.
Eighteen Lebanese Leaders met at the presidential palace in Baabda for Tuesday's talks headed by President Michel Suleiman. The dialogue is part of a peace deal reached in Qatar in May 2008 that ended sectarian clashes and defused a crisis.
Cabinet Minister Mohammed Safadi was not able to attend due to travel.
The talks kicked off at 11:19am, but two hours later, Suleiman adjourned the national dialogue until April 15.
The rival factions have conducted similar dialogues in 2006 and last year . The last session was held before parliament elections in June 2009.
But they have so far made no progress on a defense strategy that would eventually integrate Hezbollah's weapons into the Lebanese regular armed forces.
The sides remain deeply divided over the issue of Hezbollah arms. While March 14 majority leaders want this issue to be on the agenda , the Hezbollah backed opposition are saying this issue is not subject to any discussions.