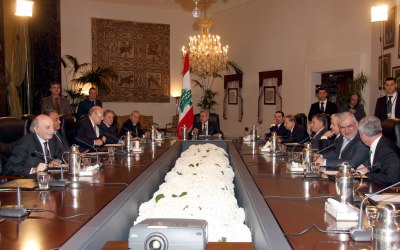 A meeting was held Monday on the eve of the national Dialogue talks between Prime Minister Saad Hariri, former PM Fouad Saniora, Phalange party leader Amin Gemayel and Lebanese Forces chief Samir Geagea . The meeting led to agreement that the defense strategy should be the only item for discussion.
The four leaders, according to Al-Liwaa newspaper also agreed to raise the issue of Arab League involvement in dialogue sessions on the basis that the defense strategy is both a Lebanese and Arab responsibility.
Also prior to the talks Progressive Socialist Party leader MP Walid Jumblatt called for a "gradual solution" to the issue of the resistance that would lead to the eventual integration of Hezbollah fighters into the Lebanese army
"This issue, however, should be discussed under appropriate conditions for the resistance politically and militarily," Jumblatt said in remarks published Tuesday by the daily As-Safir.
He said this issue should be discussed after the Lebanese army's defense capabilities were strengthened and not before.
Jumblatt said the defense system should include anti-aircraft guns, surface-to-air missiles as well as anti-armor and ground defense weapons.
He stressed the need to deal with the issue of the defense strategy in a "comprehensive manner and in accordance with the prevailing conditions, and not from the standpoint of the resistance's arms."
During the dialogue talks Tuesday Marada Movement leader MP Suleiman Franjieh raised the issue of the weapons of Palestinian factions outside the refugee camps and said this should be addressed as part of Lebanon's national defense strategy.
Franjieh also asked about the future of arms inside the camps, as well as about the state's responsibility toward Palestinian refugees.
Also during the talks former president and Phalange party leader Amin Gemayel called for keeping Lebanon out of the "game of axes" , a reference to the Syrian-Iranian alliance with Hezbollah. He also asked whether Lebanon wanted to be a "belligerent or compliant" state.
Following the talks , Lebanese Forces leader Samir Geagea told reporters at Baabda that March 8 representatives did not offer any new suggestions on the defense strategy. He also said the border around the Shebaa Farms should be demarcated and that the UN Security Council should be provided with documents proving the territory is Lebanese.