Suleiman, Saudi king discuss bilateral ties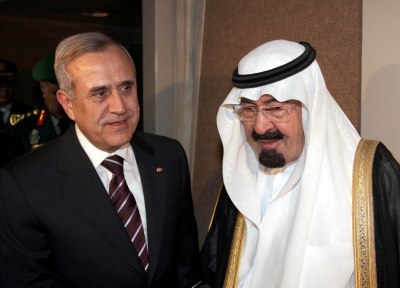 Lebanese President Michel Suleiman and an accompanying delegation arrived in Riyadh on Saturday on an official two-day visit to meet with the Saudi King and senior Saudi officials.
Suleiman's visit comes on the eve of reconvening the national dialogue table next Tuesday at the Baabda Palace and before Libya's Arab League Summit that will convene on March 27.
Suleiman met with Saudi King Abdullah bin Abdel Aziz in Riyadh to discuss bilateral and Arab relations as well as the overall situation in the region.
Suleiman reportedly highlighted the need to maintain Saudi-Lebanese communications to ensure bilateral cooperation at the domestic, regional and international levels. Both leaders also discussed stability in the region and the recent Israeli threats against Lebanon.
Suleiman is reportedly expected during the course of his visit to address Saudi military aid to the Lebanese Armed Forces (LAF) and Internal Security Forces (ISF). He is also scheduled to meet with the Lebanese community in Saudi Arabia at the Lebanese Embassy in Riyadh on Saturday night.