Hariri urges the Lebanese community in Kuwait to support state bulding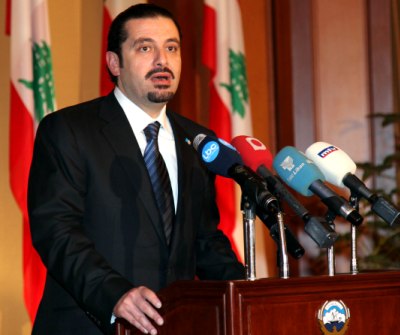 Prime Minister Saad Hariri arrived in Kuwait for a two-day official visit at 6:00 pm on Saturday, accompanied by a delegation that includes ministers Michel Pharaon, Adnan al-Qassar, Wael Abu Faour and Fadi Abboud, according the PM's media office.
Hariri is scheduled to meet with high-ranking Kuwaiti officials, including Emir Sheikh Sabah al-Ahmad al-Sabah and PM Sheikh Nasser al-Mohammad al-Sabah.
Hariri, was welcomed at the airport by senior Kuwaiti officials and Lebanese Ambassador to Kuwait Bassam Naamani.
A dinner was hosted by the Lebanese expatriate community at the Lebanese embassy in Kuwait to honor Hariri and his accompanying delegation . Hariri addressed Lebanese community by urging them to support their country in the process of state building.
Hariri told them : State building means applying law and order as well as ensuring security, stability and social security, establishing a professional and highly equipped Lebanese army and Internal Security Forces (ISF) to protect the country and ensure the people's security internally in combating terrorism and uncovering Israeli espionage networks .