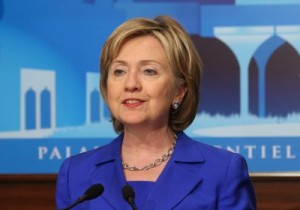 US Secretary of State Hillary Clinton is ready to go to Moscow for an upcoming meeting of the Middle East Quartet in a bid to encourage Israeli-Palestinian talks, her spokesman said Tuesday.
"If everyone is agreeable, the secretary will be there," State Department spokesman Philip Crowley told reporters.
A UN spokesman earlier told AFP that UN chief Ban Ki-moon will take part in the meeting of the Quartet — the European Union, the United States, Russia and the United Nations — on March 19.
Crowley voiced hope that Israel and the Palestinians would soon resume negotiations — a key US diplomatic priority that eluded President Barack Obama's administration in his first year in office.
"We think we are at a point in time when there is some reason to believe that the parties are getting closer to the kind of discussions that we think will lead to resolving the complex issues that they face," Crowley said.
"In any negotiation that might take place, we will need strong regional support and we will need strong international support." rawstory