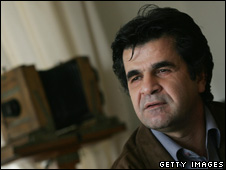 Police in Iran have arrested internationally acclaimed filmmaker Jafar Panahi and his family.
Plainclothes police broke into Mr Panahi's family home and arrested him, his wife and daughter and 15 other guests, his son Panah told reporters.
The director, known for his social realism, has made several films critical of Iran's regime.
The Tehran prosecutor's office has confirmed the arrest to reporters but denied it was connected to politics.
"At about 10 on Monday evening several plainclothes agents broke into the house," Panah Panahi told an opposition website.
They arrested everyone who was there and searched the house taking away computers and other personal belongings, he said.
Crime allegations
But Tehran's prosecutor said the arrests were not connected to politics.
"The arrest of Jafar Panahi is not because he is an artist or for political reason," prosecutor Abbas Jafari Dolatabadi told the semi-official ISNA news agency.
"He is accused of some crimes and was arrested with another person following an order by a judge."
Last year a travel ban was imposed on Mr Panahi by the authorities after he appeared wearing green – the colour of opposition supporters – at the Montreal film festival.
He was also briefly arrested after attending a memorial to student Neda Agha Soltan, killed at an opposition rally last June.
Film awards
Mr Panahi is a past winner of the Venice Film Festival's Golden Lion award.
His most recent film is Offside, which won the 2006 Berlin Film Festival's Silver Bear award.
It tells the story of a group of female football fans who try to sneak into Iran's World Cup qualifying match against Bahrain but are arrested.
In Iran, women are banned from attending men's sporting events.
At least 30 protesters have been killed in clashes since last year's disputed elections, although the opposition says more than 70 have died. Thousands have been detained and some 200 activists remain behind bars.
At least nine have been sentenced to death, and two have been executed already.
Some of those arrested include former ministers and the sister of Nobel laureate Shirin Ebadi. BBC