Israel used Australian passports in Lebanon long before Dubai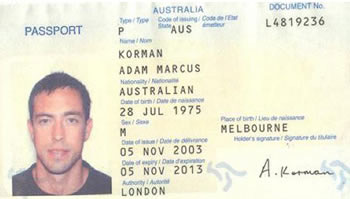 Australia's counter-intelligence and security agency is investigating suspicions that three Australian-Israeli dual citizens spied for Israel in recent years by using their Australian passports, the Sydney Morning Herald reported on Saturday.
Australian intelligence sources said that the three men under investigation all emigrated to Israel within the last decade. Each has visited Australia at different times to legally change their names and obtain new passports. The new passports were used to gain entry to a number of countries, including Iran, Syria and Lebanon.
The Australian Security Intelligence Organisation has been conducting the inquiry for six months, the newspaper reported, and the probe is unrelated to the assassination of Mahmoud al-Mabhouh in Dubai last month. Three Australian passports were used in that operation, which Dubai authorities attributed to Israel's Mossad spy agency.
The individuals had changed their names from those that could be identified as European-Jewish to ones more typically identified as Anglo-Australian. One of the men changed his last name three times, the paper reported, and the other two twice each. The names were changed from those that could be identified as European-Jewish to those typical of Anglo-Australians.
The Herald reported that the three Australians are involved with a European communications company that has a subsidiary in the Middle East. In 2004, one of the individuals in question sought assistance at the Australian embassy in Tehran.
Two of the men contacted by the paper emphatically denied they were involved in any kind of espionage. "This is a complete fantasy," said one. "I have changed my name for personal reasons."
"I have never been to any of those countries that you say I have been to," said the other. "I am not involved in any kind of spying. That is ridiculous."
The man is also believed to hold British citizenship, and to have come under the surveillance of British intelligence after he changed his name.
The company's chief executive strongly denied the man was ever employed by his firm, the paper reported, and adamantly rejected the idea that his company was being used to gather intelligence for Israel.
Australian intelligence declined comment.
Canberra said yesterday it is not satisfied with the Israeli ambassador's explanation about the alleged fraudulent use of Australian passports in the Dubai operation, Prime Minister Kevin Rudd said, according to the Herald. Rudd said his government had to "proceed very carefully" in the investigation because of its complex security nature.
Israel's ambassador to Australia, Yuval Rotem, was summoned on Thursday for an urgent meeting with Foreign Minister Stephen Smith.
(Haaretz)