Iran's president in Syria to meet with Assad, Nasrallah, Meshaal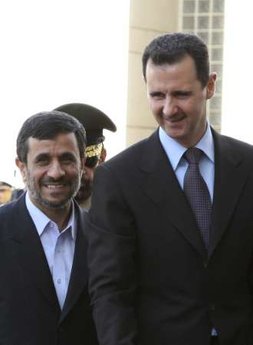 Mahmoud Ahmadinejad, Iran's president, is in Damascus for talks with his Syrian counterpart Bashar al-Assad, Syria's official SANA news agency said.
According to other reports the Iranian president will also meet with Sayyed Hassan Nasrallah, the leader of the Lebanese group Hezbollah, and Khaled Meshaal, Hamas' leader, while in Damascus.
Thursday's visit comes after Walid Mouallem, Syria's foreign minister, said Damascus was eager to help Iran and the West engage in a "constructive" dialogue over Tehran's contested nuclear program.
"Sanctions are not a solution [to the problem] between Iran and the West," Mouallem said on Saturday.
"We are trying to engage a constructive dialogue between the two parties in order to reach a peaceful solution."
He insisted that despite Western claims "Iran does not have a nuclear military program." Aljazeera