Israel Heron TP drones 'could target Iran'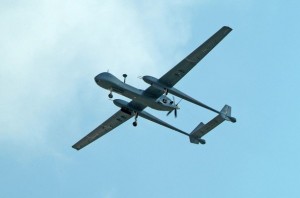 Israel's air force has unveiled a fleet of unmanned aircraft that its says are able to reach the Gulf, putting Iran within range.
The Heron TP drones, which have a wingspan the size of a Boeing 737 passenger jet, were presented to the media on Sunday, as Israel pushes for international action against the Islamic republic over its nuclear program.
The aircraft, developed by the state-owned Israel Aerospace Industries, can fly at least 20 consecutive hours and be used for surveillance or launching a missile attack.
"I can tell you, it can do a lot of missions. It can do some special missions, unique missions that no other UAV [Unmanned Aerial Vehicle] can do," Lieutenant Colonel Eyal Asenheim, a drone operator, told The Associated Press news agency.
Brigadier General Amikam Norkin, the head of the base that will operate the drones, said: "With the inauguration of the Heron TP, we are realizing the air force's dream. Aljazeera