Lebanese Prime Minister Saad Hariri met Saturday with Pope Benedict XVI at  the Vatican to discuss the situations in Lebanon and the Middle East.
Hariri then also  held a meeting with Cardinal Tarcisio Bertone, the Vatican Secretary of State, and Monsignor Dominique Mamberti, Secretary for Relations with States of the Holy See.
Hariri arrived in Rome Friday afternoon accompanied by his wife Lara, his children ( Hussam,  Lulwa and Abdul Aziz ), and his advisers . The delegation was joined by Lebanese Ambassador to the Vatican George Khoury.
Prior to his departure to Rome Hariri said: "Meeting with the pope has great significance because Lebanon is  the homeland of major Christian sects that we want to preserve."
"We want to safeguard them and we want them to remain deep-rooted in Lebanon so that Lebanon remains a global exemplar of coexistence," he added.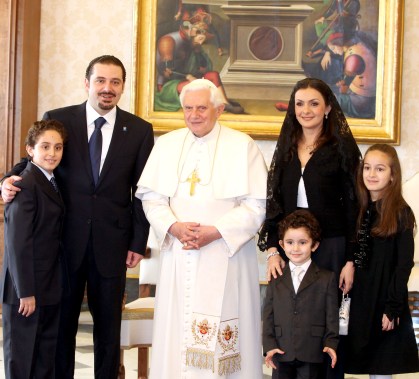 Lebanese Prime Minister Saad Hariri met Saturday with Pope Benedict XVI . His wife Lara, and children  Hussam,  Lulwa and Abdul Aziz accompanied him