Aoun visits Jumblatt In Mukhtara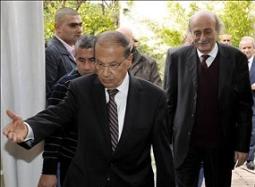 Free Patriotic Movement leader MP Michel Aoun on Saturday headed to the Shouf region to visit Progressive Socialist part leader MP Wald Jumblatt at his residence in Mukhtara. He stopped on the way for laying wreaths at the Martyrs' Monument in Deir al-Qamar. He also visited Deir al-Qamar's al-Talleh Church.
During a speech at the church he stressed the importance Druze-Christian unity  in Mount Lebanon :
"This visit is addressed to all of the Shouf residents, Christians and Druze, so that we restore harmony in Mount Lebanon."
Aoun who was forced to cancel a visit to Chamoun Family Burial Ground because of protests against his visit by Deir el Qamar residents later headed to Mukhtara.
In Mukhtara he placed a wreath of flowers at Kamal Jumblat's tomb before entering the palace for talks with the PSP leader
In Deir al Qamar MP Doury Chamoun told , Aoun has to apologize to the Chamoun family and the National Liberal Party.