Iran launches its guided-missile destroyer 'Jamaran'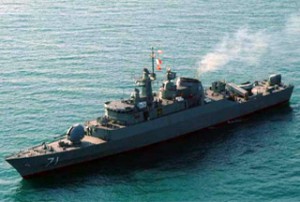 In the midst of a diplomatic standoff over its controversial nuclear program, Iran has rolled out its latest homegrown weapon, a guided-missile destroyer called Jamaran.
"The destroyer's launch marks a major technological leap for Iran's naval industries," Iran's English-language Press TV reported. The new ship, which sports a helipad, is equipped with anti-ship and surface-to-air missiles, torpedoes and naval cannons.
But just how capable is the destroyer? Few technical details have been released about the ship other than its basic weight of around 1,400 tons. It can carry between 120 and 140 people.
By comparison, the United States' most modern class of destroyer, the Arleigh Burke, is more than 8,000 tons, and its possible successor, the Zumwalt class destroyer, is expected to weigh in at more than 14,000 tons.
The destroyer was named "Jamaran" , after the name of the neighborhood where the late Ayatollah Khomeini lived