Berri calls on Lebanon to boycott Libya's summit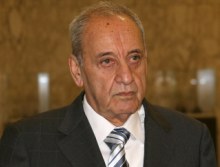 Speaker Nabih Berri called against Lebanon's participation in the upcoming Arab League summit in Libya, during a speech on Wednesday to a medical conference at Beirut Al-Zahraa Hospital.
Berri accused Libya of being behind the 1978 disappearance of Lebanon's Shiite leader Imam Moussa Sadr.
Berri also urged all Arab leaders to avoid participating in the summit and giving political cover to Libya.
We and our partners who gathered for the February 14 commemoration of the 2005 assassination of former Prime Minister Rafik Hariri wish to build a new state, Berri said. However, he said that the journey to build a new state begins with eliminating political sectarianism.
The speaker called the elimination of political sectarianism a national duty, reiterating his call to form a national committee on the issue. We do not wish for one sect to dominate over the others, the speaker said, adding, "We want all 18 sects to dominate."
He said that in order to build a new state, the Lebanese should admit that the sectarian system has failed.
He also blamed corruption on political sectarianism, saying, "Some parties try to attain more privileges than others to serve their own interests." Berri called for the building of a modern country, in which no party has veto power.
Berri warned Israel against any new aggression saying Israel would only lose the war and will fail to split Lebanon or create a rift between the Resistance and the Lebanese army.
Berri also called for exploring the oil and natural gas reserves off the Lebanese coast to help pay off the national debt.
berri also called for establishing a crises committee to handle disasters .
"In light of the crash of the Ethiopian plane, I call for establishing a committee to manage disasters," he said.