Women prisoners in Lebanon turn their attention to fashion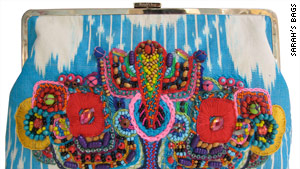 In the prisons of Lebanon, women are turning their attention to fashion and stitching their way to a brighter future.
They're part of a program run by Sarah's Bags, a Beirut-based label that employs convicts and the recently-released to sew and embroider handbags by hand.
For the past ten years, the program has steadily grown, after catching the eye of the Lebanese elite early on, including the wife of former Prime Minister Rafik Hariri — still one of their best customers — and Queen Rania of Jordan.
Today Sarah Beydoun, the company's founder, has plans to expand and has set her sights on European markets.
"We're starting to exhibit in Paris. It's part of becoming more international. We want to sell to more stores beyond the Middle East and the Gulf," she told CNN.