March 14 calls for massive turnout on Feb 14 's Hariri commemoration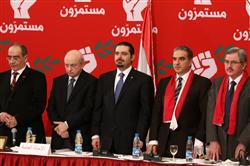 March 14 General Secretariat Coordinator Fares Soueid said at the end of the Bristol meeting: We want to turn the black pages and open a new page of hope. We want a state where we can combine both accomplishments … liberation and second independence.
Soueid called for a massive turnout on February 14 commemoration to mark the fifth anniversary of the assassination of former PM Rafik Hariri.