Key risks in the Middle East in 2010
Iran's internal crisis and its nuclear dispute with the West will preoccupy the Middle East in 2010, as will security crises in Yemen, U.S. troop cuts in Iraq, Dubai's debt woes and the Israeli-Palestinian conflict.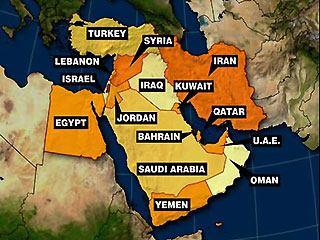 By Alistair Lyon
Beirut – Iran's internal crisis and its nuclear dispute with the West will preoccupy the Middle East in 2010, as will security crises in Yemen, U.S. troop cuts in Iraq, Dubai's debt woes and the Israeli-Palestinian conflict.
IRAN NUCLEAR AMBITIONS
Iran, convulsed by political tumult since a disputed June election, has spurned the West's end-year deadline for it to accept an enriched uranium fuel deal aimed at assuaging international fears about the purpose of its nuclear programme.
Washington and its allies are now weighing sanctions aimed at Iran's leadership, instead of broader penalties that they fear could harm popular opposition to the government, officials say.
Such measures could be imposed by the U.N. Security Council, although veto-wielding members Russia and China, may demur.
Iran says it will defy tougher sanctions, but U.S. President Barack Obama, keen to avoid a new war while his military is still fighting in Afghanistan and Iraq, may see them as the best way to head off any Israeli attack on Iranian nuclear sites.
An Israeli strike, while more likely to delay than destroy Iran's nuclear potential, could entangle the United States in a regional conflagration that would threaten global oil supplies.
Things to watch:
— Decision on sanctions: if Russia goes along, China might follow suit; otherwise the West might act alone.
— Political struggle with opposition; splits in ruling establishment; fate of government plan to lift fuel subsidies.
SECURITY SPOTLIGHT ON YEMEN
The botched bombing of a U.S. airliner on Dec. 25 allegedly perpetrated by a Nigerian trained by al Qaeda in Yemen refocused fears about an impoverished Arabian country that is also racked by civil war in the north and secessionist unrest in the south.
The United States has stepped up training, intelligence and military aid to Yemeni forces, helping them to stage deadly raids on suspected al Qaeda hideouts. Security threats forced the U.S. and British embassies in Sanaa to close on Sunday.
Fierce fighting with so-called Houthi northern rebels since August has worsened fears of Yemen sliding toward state failure and becoming a haven for Islamist militants hostile to the Saudi monarchy and other U.S. allies in the oil-producing Gulf region.
Saudi forces attacked the Houthis after a cross-border rebel raid in November, but the conflict, which has displaced around 170,000 civilians, has raged on. Yemen accuses Iran of backing the revolt. U.S. officials say they have no evidence for this.
Things to watch:
— Deeper U.S. and Saudi involvement in Yemen to try to keep the country viable and curb al Qaeda's ambitious network there.
— Sunni-Shi'ite tensions, even though Zaydis in mostly Sunni Yemen are doctrinally distinct from Shi'ites in Iran.
— Economic decline, despite startup of natural gas exports in Nov 2009, with oil revenue falling and corruption rampant.
IRAQ ELECTION, U.S. TROOP CUTS
Groping toward a future without U.S. troops, Iraq heads into a parliamentary election on March 7 likely to herald months of political wrangling over the formation of a new government, amid unresolved disputes over territory, resources and power.
Oil deals signed last month have opened up visions of Iraq eventually eclipsing all producers except Saudi Arabia.
Violence has ebbed in the last 18 months, but may spike in the run-up to the first national poll since 2005. Recent big bombings of government targets, blamed on al Qaeda and others, point up the challenges facing nascent Iraqi security forces.
Washington aims to cut troop levels to 50,000 by its Aug. 31 2010 target for an end to combat operations, and to withdraw all its forces, now about 115,000-strong, by the end of 2011. It has left open the option of an agreed military role beyond that.
Arab-Kurdish tensions focused on the disputed city of Kirkuk — and so far held at bay by U.S. forces — could tip Iraq back into war, perhaps sucking in neighbours like Turkey or Iran.
Things to watch:
— Election outcome, interplay of rival Shi'ite, Sunni and Kurdish blocs to decide if Nuri al-Maliki stays prime minister.
— Will post-election political deadlock tempt parties that control militias or army/police units to start fighting? U.S. troop reductions: will insurgents bide time or cause mayhem?
— Iraq's return to OPEC quota system as capacity rises.
DUBAI DEBT CRISIS
Dubai's drive to become a premier trade, finance and tourism hub has deflated in a debt crisis and property slump. Can Dubai, known for mega projects such as Burj Dubai, the world's tallest tower, which opened on Monday, find a steadier business model?
A $10 billion lifeline thrown by Abu Dhabi failed to banish fears about how Dubai would repay debts racked up during years of breakneck expansion, although it rescued developer Nakheel from default on a $4.1 billion Islamic bond due last month.
Dubai World, the holding company to which Nakheel belongs, sought a six-month payment standstill on $26 billion of debt in November, jolting creditors and, briefly, global markets. Creditors have yet to accept the standstill or agree terms.
The emirate's total debt stock is $120 billion, according to investment bank Goldman Sachs, with at least $55 billion coming due in the next three years. Dubai World alone owes $40 billion.
Things to watch:
— Nakheel bonds — 3.6 billion dirham ($980 million) maturing in May 2010 and $750 million in January 2011.
— Impact on Gulf bourses, credit ratings of banks exposed to Dubai World, remittances from Dubai's foreign workers.
— Willingness of Abu Dhabi to bail out its neighbour in future and what political or other price it might exact.
ISRAEL-PALESTINIAN PEACE HOPES WITHER
Prospects for progress towards peace look bleak, with a weak and divided Palestinian leadership, a hardline rightwing Israeli government and few signs of decisive United States involvement.
Palestinian President Mahmoud Abbas, whose negotiations have failed for years, has refused to return to talks unless Israel halts all settlement construction on occupied land.
U.S. President Barack Obama eased earlier demands for such a freeze and accepted Prime Minister Benjamin Netanyahu's offer of a 10-month slowdown to West Bank settlement building.
The debacle has underlined the widening gulf between the two sides, even though the United States and its European allies are still pushing for an increasingly implausible peace "process".
Israel may have bought respite from direct attack from Hamas and Hezbollah with devastating assaults on the Gaza Strip nearly a year ago and Lebanon in 2006, but the risk of violence is high given Palestinian frustration and Israeli settler activity.
Things to watch:
— Possible swap, mediated by Egypt and Germany, of Israeli soldier held by Hamas for nearly 1,000 Palestinian prisoners.
— Mediation efforts in power struggle between Abbas, who controls the West Bank, and Islamist Hamas rivals who run Gaza.
— Attempts by settlers and their allies in Israel's ruling coalition to circumvent effectiveness of any settlement curbs.
Source: Reuters