An Open Letter to Prime Minister Hariri
By Maurice Obeid Now that you have a government in place, I am writing to advise you to capitalize on recent developments to set the stage for peace in Lebanon.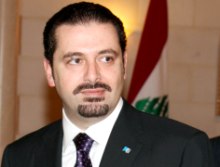 By Maurice Obeid, Special to Ya Libnan
Your Excellency: Congratulations on the formation of the new cabinet. Now that you have a government in place, I am writing to advise you to capitalize on recent developments to set the stage for peace in Lebanon.
Significant incidents in the South and recent Israeli threats indicate that Israel and Hezbollah are preparing for a confrontation. A new war would far supersede the devastation and destruction inflicted in 2006. This underscores the urgency of acting fast to partner with Hezbollah. Domestically, you should engage Hezbollah and work with the U.S. and the international community on an incentive package that encourages the party to give up loyalty to Syria and Iran, surrender its weapons, and fully integrate into Lebanese politics. Concurrently, you should leverage developments in Syrian-American relations to cut off Hezbollah's weapon supply.
Your Excellency, now is the time to act. America's rapprochement with Syria presents an opportunity for Lebanon. But you should act fast to be a player in the process, working closely with the U.S. to prevent Lebanon from being used as a bargaining chip.
Situation: Israeli threat is imminent
Renewed conflict with Israel is probable. Activity along the border has increased, and Israel's threats have soared in frequency and gravity. Hezbollah's Katyusha launch into Israel on October 27 was the ninth serious incident since the 2006 war. Ever since the Kherbet Slim episode in July, Israel has held "all Lebanese" responsible "for any Hezbollah activity." In addition, Israeli spying activities have increased, and the rate at which they are being exposed could provide Hezbollah the casus belli for a provocation. To make matters worse, the reported seize of arms shipment from Iran to Syria on November 3 is being advertised by Israel as the largest cache of smuggled weapons ever to be seized. Netanyahu called for the international community to "back Israel when it defends itself." Israel could be laying the groundwork to justify a near-future strike to finish its 2006 war or to fight a proxy war with Iran.
In what follows, I elaborate on the proposed strategy:
Capitalize on improved Syrian-American relations
Recent developments in Syrian-American relations bode well. Syria is reciprocating America's outreach earlier this year with a visit to Washington last month by Fayssal Mekdad, the highest ranking official to visit in five years. Syrian-Israeli peace talks are also likely to resume. On October 28, President Al-Assad voiced his support for resuming talks; Ehud Barak responded that peace with Syria was "a central brick in any stable regional arrangement." Last Friday, Al-Assad called for French efforts to support Turkish mediation between Israel and Syria.
Privately, you should emphasize to the Americans that Syria does not want to be stuck on the Shiite side of the Sunni-Shia divide and U.S. rapprochement with Syria would stabilize the region. You should act fast to be a partner in the process to ensure that Lebanon's interests are not dismissed. In a presentation to the U.S. Congress on October 28, Ambassador Jeffrey Feltman reaffirmed that there will be no return to the pre-1990s era where Washington bargained at Lebanon's expense. Nevertheless, this is a risk we cannot take.
Engage Hezbollah
This is where you should focus most of your efforts.
Disarming and fully integrating Hezbollah has to be achieved through a political process led by the Lebanese State. Initiate a private dialogue with Hassan Nasrallah to truly understand Hezbollah's demands and its core aspirations. As the recent past has taught us, any attempt to undermine or confront the movement is counterproductive, and supporting alternative Shia movements is futile. Even if its Syrian lifeline is interrupted, Hezbollah would remain powerful. If cornered, it could direct its arsenal inward, igniting a civil war. Your negotiation efforts should be private. Refrain from publically criticizing the movement. If Hezbollah is to disarm, mechanisms should be set in place for the party to save face.
You should persuade the U.S. that there is no alternative to engaging Hezbollah, and that the first step is to acknowledge the party as a legitimate player. Fighting Israel is not fundamental to Hezbollah's ideology. Since inception, the movement has significantly evolved. It has publically rejected Iranian-style Islamization of Lebanon, a pillar of its1985 manifesto. Similarly, it has abandoned the destruction of Israel as a goal and reorganized as a Lebanese resistance. Given the right circumstances, Hezbollah would renounce violence against Israel. To make any headway, the U.S. must appreciate the diversity of Hezbollah's religious, political, and social ties with its supporters. Mutual symbolic gestures would go a long way: the U.S. would take Hezbollah off its terrorist list, and in return Hezbollah would apologize for the 1983 bombing. There is reason to believe that America might realize the pragmatism of working with Hezbollah. The Obama administration has started to strike a balance between American values and American interests. Case in point, the U.S. now has plans to work with the Taliban in Afghanistan.
With the help of the U.S. and the international community, offer Hezbollah a package of economic and political incentives. You should strike a balance between incentives that are attractive enough to entice Hezbollah to integrate but that still preserve Lebanon's multi-confessional identity. Political incentives can vary from increasing the Shia quota defined by the Ta'if Accord to abolishing confessionalism. Some of the options will require structural modifications to our political system, but difficult compromises need to be made in return for peace.
There is also the question of Palestinian refugees. As long as the refugees, predominantly Sunni, remain in Lebanon, Hezbollah is unlikely to disarm. You should mobilize U.S. support for resolving the refugee dilemma. Make it clear that no peace can be had otherwise and that Israel would reap the benefits of a solution, given the link between refugee conditions and extremism. Lead the call for an international scheme that would compensate refugees and relocate them to the West Bank or Gaza or offer them citizenship in large, developed countries, or a combination of both.
Challenge: regional developments largely beyond our control
It is not clear to what extent Syria will be at the forefront of the American agenda. President Obama is currently overwhelmed with domestic issues, Afghanistan, and Iran. The situation with Iran is fragile. It appears that Iran has not accepted the nuclear fuel deal from the October 1 Geneva talks. If negotiations fail, thanks to Russia's recent cooperation sanctions are likely to be tightened, followed by military intervention as Iran is one year away from a nuclear bomb. Israel, however, will be tempted to strike preemptively. Any military altercation with Iran—American or Israeli—would plunge Lebanon into a proxy war. This further underscores the urgency of integrating Hezbollah.
This is a long-term strategy. Making progress against it requires favorable regional developments that are beyond our control, including Syria's relations with the West, Iranian negotiations, and Palestinian-Israeli peace talks. But as Obama's strategy in the Middle East takes shape, you should continuously work in concert with the U.S. to steer developments in Lebanon's interest.
Your Excellency, we now have a chance at peace. We should not repeat the mistakes of the past when peace slipped through our hands because we were too slow to act.
Maurice Obeid, a graduate from MIT and formerly with McKinsey & Company, is currently pursuing graduate studies in Public Policy at Harvard Kennedy School of Government.