Top Iranian Guards commander, several fighters killed in Syria
Two members of a unit of Iran's elite Revolutionary Guards Corps (IRGC) have been killed in Syria, Fars news agency reported on Saturday, a day after confirming two other IRGC deaths in Syria.
Mostafa Sadrzadeh and Milad Mostafavi were killed in the northern Syrian city of Aleppo on Friday and Saturday fighting against Islamic State, Fars said.
Sadrzadeh is reportedly the top Iranian  commander of the Fatemiyoun Brigade  which is formed of Iran-based Afghan expatriates who are trained by Tehran to fight in Syria
On Friday, an IRGC spokesman confirmed the death of two other Iranian fighters in Syria, including an ex-bodyguard for former Iranian president Mahmoud Ahmadinejad.
"Today, two of IRGC's Ansar forces were martyred in Syria. Reports of the martyrdom of 15 people are wrong," Iran's Tasnim news agency quoted Ramezan Sharif, a spokesman for the IRGC, as saying.
"Abdollah Bagheri Niaraki and Karimi were martyred in Syria while protecting a religious site near Aleppo."
The spokesman gave no first name for Karimi.
Niaraki, who for a while was the bodyguard of former president Mahmoud Ahmadinejad, was killed on Thursday, the semi-official Fars news agency reported.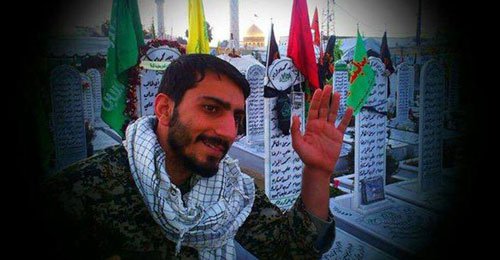 Fars news agency also reported Reza Khavari, "one of the leaders of Fatemiyoun Brigade was killed in Syria while on duty. The number of Iranian casualties in Syria has risen in recent days.
This is not the first time Iran has announced the death of volunteer members of this brigade. The Iranian parliament rejected a bill last month that would have given nationality to the children of "non-Iranian martyrs."
Iran is the main regional ally of Syrian President Bashar al-Assad and has provided military and economic support during Syria's four-year-old civil war.
Tehran says it has been offering "military advice" to the Syrian army in its fight against Islamic State militants and other rebel groups, and that it has sent fighters only to defend Shi'ite shrines.
Sources told Reuters this month that hundreds of troops had arrived since late September to take part in a major ground offensive planned in west and northwest Syria, in the biggest deployment of Iranian forces yet.
Sharif said the presence of the IRGC "has increased since the recent field developments in Syria", but gave no further details.
Four Iranian commanders were killed this month fighting in Syria, and an IRGC commander was killed in June.
Reuters