ISIS abducts 100 Iraqi tribesmen before battle for Tikrit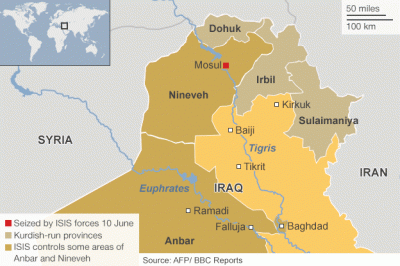 Islamic State fighters have abducted 100 Sunni Muslim tribesmen near the city of Tikrit, local tribal leaders said on Wednesday, apparently to neutralize suspected opponents before a widely expected army offensive.
Iraqi soldiers and pro-government Shi'ite militias have been massing for days in preparation for an attack on Islamic State strongholds along the Tigris River to the north and south of Tikrit, hometown of executed former president Saddam Hussein.
Tikrit, about 150 km (95 miles) north of Baghdad, has been controlled by the Sunni Muslim radicals since they swept through northern Iraq in June, scattering Iraq's security forces.
Tribal leaders said Islamic State fighters had detained 42 Sunni tribesmen in the village of Rubaidha on Tuesday whom they suspected of being ready to take up arms against them.
"They broke into the houses and asked for mobiles," said Hatam al-Obeidi, a Rubaidha resident who escaped to the town of Tuz Khurmatu on Wednesday.
"They were checking everything in the mobiles that might show that the owner is against them," he said, adding that his own telephone had been returned to him after a gunman told him he was "clean".
Last week, insurgents detained 56 men accused of belonging to a government-backed Sunni militia, said Abu Kareem al-Obeidi, who left Rubaidha for the neighboring Diyala province to avoid abduction.
The militants initially set up a headquarters in Rubaidha, about 20 km (12 miles) north of Tikrit, after their June offensive, but pulled out after army helicopters mistakenly bombed the house of the local sheikh beside their base.
The sheikh then asked the militants to leave, residents said.
Iraq's military said around 2,000 Shi'ite militia fighters, known as the Popular Mobilisation, had arrived near Tikrit in preparation for a major operation against Islamic State.
Raed Jabouri, governor of Tikrit's Salahuddin province, said on Tuesday that 5,000 fighters from the security forces and the Popular Mobilisation – formed last year with Iranian support after the rout of the army – would join "the operation to liberate Tikrit".
Witnesses said the militants had on Wednesday blocked three main entrances to the south, west and north of Tikrit with 4-metre (12-foot) concrete blast walls.
They also covered a bridge across the Tigris with about 1 meter (three feet) of sand in the hope of absorbing the impact of bombs.
The witnesses saw a stream of SUV vehicles, apparently containing detainees, heading north toward the northern, Islamic State-controlled city of Mosul.
After months of air strikes by the United States and its Western and Arab allies, Islamic State is on the defensive in several parts of the "caliphate" it declared in swathes of Iraq and Syria. In Diyala, adjoining Iran, officials say they have all but driven Islamic State out.
Reuters