TV skit mocking Nasrallah sparks protests in Lebanon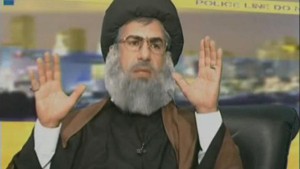 Hezbollah leader Hassan Nasrallah was the subject of mocking at a Lebanese television program this week, raising anger among his supporters who protested against the show.
His supporters took to the streets on Friday, burning tires and blocking roads in several parts of Lebanon.
It wasn't the first time Nasrallah was mocked in Basmat Watan, a slapstick program aired by LBC TV.
In 2006 Nasrallah's character appeared in the program and the result was a similar one; people protesting and burning tires in the streets.
This week's program poked jokes at Hezbollah's role in Syria, with Nasrallah's character lamenting what he said was a late intervention.
"Our weapons should have included planes and submarines," he said.
Charbel Khalil, the producer of the program, said on Twitter that mocking religious figures is an integral part of the program and no one should be bothered.
Those who support mocking Nasrallah say the Hezbollah leader is a political figure who should not be spared jokes.
LBC won't apologize
LBC's Khalil told The Daily Star Sunday that he would not apologize for impersonating Nasrallah . "I will not apologize," Khalil said. "We are continuing with our work, and this issue is behind us now."
"Apologizing is not possible because what would I be apologizing for?" Khalil told LBCI Saturday night, a day after the episode, which airs on the local television channel, raised tensions.
"I will continue with my show but not for the sake of provoking [anyone]," he added.
Khalil told The Daily Star Sunday that an objective media outlet had the right to criticize and satirize any political and religious figure.
"[The show] has impersonated every religious figure, it does not mean I have reservations against anyone," he said. "I respect them all."
He added: "The impersonation of religious figures has become a regular thing in Lebanon."
Al Arabiya