Participants from 104 countries race in Beirut Marathon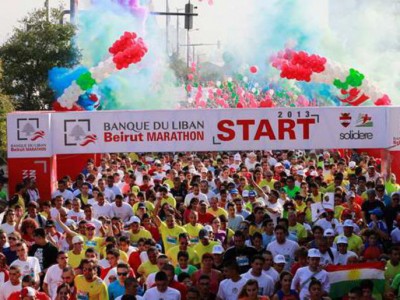 More than 36,000 participants from 104 countries ran a 42-kilometer marathon in Beirut on Sunday despite difficult conditions experienced in Lebanon due to the nearby Syrian conflict.
Amid heightened security measures, "Run for Lebanon" saw a high turnout.
"Today, we should run for Lebanon," caretaker Sports and Youth Minister Faysal Karami told reporters before he joined thousands of runners at the start line.
While people of all ages participated in the event, there were 21 professional runners, including the Kenyan William Kipsang, winner of the 2008 Dutch Rotterdam marathon, and also the Kenyan runner Sammy Malakwen, the winner of a Bronze medal in the 2011 Beirut marathon.
Kipsang won the 42 km race at the marathon in 2 hours, 13 minutes, and 35 seconds, Naharnet news website reported. Meanwhile, Benjamin Serem, who hails from Kenya, took the silver medal while Ethiopia's Gemechu Lemma came in third.
Lebanon's First Lady Wafaa Suleiman was also one of the runners.
Suleiman described Sunday's marathon as a message to the world that "Lebanon is stronger than the challenges it faced."
Commenting on the event, caretaker PM Nagib Mikati said via Twitter: z'36,000 smiles covered the faces of the runners and we hope all the Lebanese will enjoy happiness so that they can live in peace."
There were also Syrian refugee children, who participated in the 5-kilometer race in the marathon.
The Syrian conflict did not only affect the security situation within Lebanon's borders but the country saw a huge influx of Syrian refugees.
According the United Nations High Commissioner for Refugees, there are about 805,000 Syrian refugees in Lebanon. But the Lebanese government estimates the real number of Syrians in the country at more than 1 million.
Al Arabiya