Assad: Syria has more lethal weapon than chemical weapon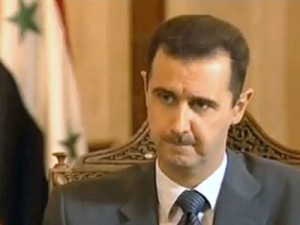 Syrian President Bashar al-Assad was quoted by his visitors as saying that his country possessed weapons that are more lethal than chemical weapons and which can blind in an instant and admitted for the first time that he possesses 1000 metric tons of Chemical weapons, according to the Thursday edition of the Lebanese daily Al-Akhbar which is closely linked to Syria and Hezbollah
He expressed optimism concerning the current situation in his country especially after the Russian-American agreement to secure the stockpile of the chemical weapons arsenal owned by his regime.
"We have 1000 tons of chemical weapons that were initially a burden for us. Getting rid of them would have been costly and would have taken years, in addition to the environmental dilemma they pose and other problems that would need to be resolved. Let them then come and take them."
He added: "The chemical weapons are not and were not their aim. They wanted to change the balance of power and protect Israel."
He also warned that his country possessed weapons that are more lethal than chemical weapons.
"Chemical weapons were manufactured in the eighties as deterrence in the face of Israeli nuclear weapons. Today, it is not a deterrence force anymore. We have deterrence weapons that are more important and more sophisticated to challenge Israel, which we can blind in an instant." Assad added.
Dependent on Hezbollah
Assad said that the close relations between his regime and the Lebanese Shiite group Hezbollah consolidated his position regarding "any aggression against Syria."
"We are confident that the battle we are conducting with our allies is the battle of all of the resistance front… I am confident that Hezbollah chief Sayyed Hassan Nasrallah can contain the repercussions of any aggression against Syria."
Obama weak
The Syrian president also lambasted United States President Barack Obama, saying that he was "a hesitant and unstable person."
"He is too weak to launch an aggression against Syria." Assad was quoted as saying.
Ahmad Atassi a Syrian observer told Ya Libnan, "the UN experts who returned to Syria should look for that more lethal weapon that can instantly blind " as described by Assad.