Turkish security forces recapture Kurdish prisoners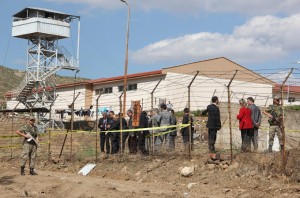 All 18 Kurds who broke out of a prison by digging a 70-metre tunnel in southeastern Turkey have been caught, officials said.
The escapees, who were either convicted of, or charged with having ties to the illegal Kurdistan Workers Party (PKK), escaped on Wednesday from a prison outside the city of Bingol.
Security forces captured them in a mountainous, wooded area near the village of Ortacanak, some 16 km (10 miles) from Bingol, officials said.
Four of the fugitives were in prison pending trial on charges of belonging to or aiding the PKK. The others were serving sentences following conviction on the same charges.
The PKK has waged a 29-year armed campaign for autonomy in southeastern Turkey, and more than 40,000 people, mainly Kurds, have died in the conflict.
The group declared a ceasefire and withdrew some fighters from Turkey to bases in northern Iraq this year after the government began peace talks with jailed rebel leader Abdullah Ocalan.
Prime Minister Tayyip Erdogan has pledged to ease restrictions on Kurdish cultural and political rights and is due to present a so-called democratization package on Monday.
The legislative changes may help keep the peace process on track, widely seen as the best chance yet to solve the decades-long conflict.
Reuters
Phot: Turkish authorities believe it may have taken the detainees up to a year to dig the tunnel they escaped through [AFP]