Moussa: Egypt's Economy needs $100 billion to recover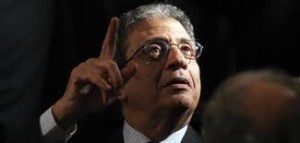 Egypt's economy requires $100 billion to recover, $12 of which are needed immediately, Amr Moussa, former Egyptian foreign minister and Ex Arab League chief and current head of the Conference Party and member of the National Salvation Front said on Wednesday.
In a speech he gave at the Arab and International Relations Council Conference held in Kuwait, Moussa renewed his demand to hold an international conference that aims at aiding Egypt's economy, the Middle East News Agency reported.
Moussa hoped that the Gulf Cooperation Council, the Association of Southeast Asian Nations, the World Bank, the International Monetary Fund, the European Union, the Americas and African nations will participate in the conference.
"Egypt has the energy, the opportunities, and the capacity to succeed and excel to once more return to its normal status as a leading nation in the region," Moussa stated" or not exist at all"
Aswat Masriya