Lebanon's Aoun claims Hariri hesitant about being PM, warns of an inter-Lebanese clash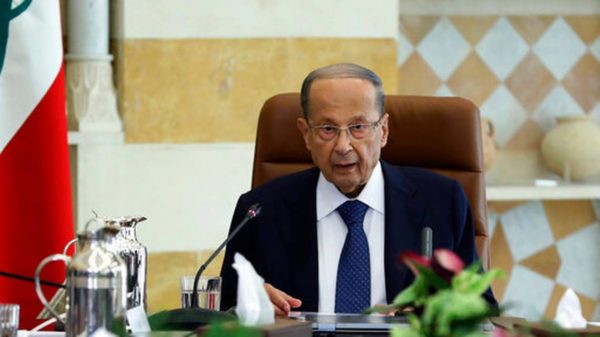 Lebanese President Michel Aoun claimed on Tuesday that he had found outgoing Prime Minister Saad al-Hariri hesitant about taking the job again .
"He has personal reasons," the president said
"I met with Hariri and I found him hesitant between yes and no," Aoun said in a televised interview, adding, without elaborating that he did not know if this was still the case.
Hariri quit as prime minister of a coalition government on Oct. 29.
Aoun said formal consultations with MPs over the nomination of the next prime minister may begin on Thursday or Friday but he was waiting for answers without which it may take a few days longer.
"The consultations might be held Thursday or Friday pending the answers of the parties concerned and if they don't respond, we'll have to postpone for a few more days," Aoun said in a TV interview broadcast on all local channels.
"We have resolved most obstacles," he said, adding that "the protest movement must have a say in the new government."
On the nature of the new government, the president said: "We cannot form a 'shock government'… A purely technocratic government cannot decide the country's policies."
"I back the formation of a government equally composed of politicians and technocrats," he added.
As for Jebran Bassil's possible re-appointment as a minister in the new government, Aoun said "it is up to Minister Bassil to choose whether or not to be in the new government," stressing that "no one has the right to put a veto on him."
Asked about Lebanese Forces chief Samir Geagea's insistence that the new ministers must be totally independent, the president said: "Where can I find them? On the moon?"
Addressing protesters, Aoun warned: "I tell the Lebanese that their behavior should not be always negative because this would lead to counter-negativity and we would definitely reach an inter-Lebanese clash."
"The country will die if protesters remain on the streets, even if we don't use any force against them," Aoun cautioned.
As for the financial and monetary crisis in the country, Aoun reassured the Lebanese and told them "not to rush to banks and worsen the problem."
"Their money is secure and we will solve the crisis," he added.
He also warned that banks that smuggle funds outside Lebanon "will be held accountable."
Aoun's remarks appeared to do little to appease protesters on the streets, who swiftly blocked roads across the country to express their dismay.
Hariri is reportedly is only interested in forming a neutral cabinet of experts as demanded by the protesters . He is of the opinion that any other type of government will prolong the crisis which could lead to complete collapse of the economy in Lebanon. He reportedly realises that any cabinet of politicians will fail to appease the revolution. "All of them means all of them"..
Aoun according to analysts is under pressure by Hezbollah to oppose the formation of a neutral cabinet of experts, since the Iranian backed Shiite party could lose control over the regime.
Most reviled politician in Lebanon.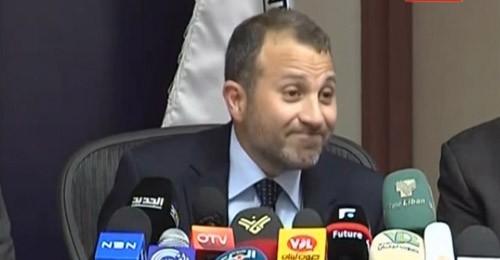 People in Lebanon took to the street chanting slogans, singing, and using obscene swear words against politicians. Some of the slogans were adapted from folk songs. But one slogan in particular swept the country: It goes – "hela hela ho Gebran Bassil… k*** emmo", the second part being the crudest swear word possible in local dialect.
It sounds like there has been pent-up anger and frustration against Bassil, Lebanon's Minister of Foreign Affairs and the president's son-in-law, believed to be desperately seeking to succeed him.
Why Gebran Bassil was singled out is a question one needs to stop and think about. The most popular slogan which united the protestors so far is "All of them means all of them". For the first time, the Lebanese people united in protest against all politicians undivided by parties or a favourite politician.
According to an opinion poll conducted by the independent media outlet Raseef22, the majority of protesters thought Bassil is "sa'eel", which translates to "obnoxious", but this is not the only reason
Bassil is not at all an influential person. His authority is totally dependent on both Hezbollah and his father-in-law – the president who is allied to Hezbollah. He is supported and rewarded by Hezbollah more than any other politicianin Lebanon.